Wednesday, March 14, 2012
Picked these up from...can you guess. You know where I shop for great deals. They were old, and the seats were yucky. But I saw great potential. A couples months ago when I was painting a vanity, I had ordered 2 different yards of fabric. The one I used for the vanity seat. And I just had to use this other fabric. I have been in a green mood, and I pulled out the fabric, and it matches almost perfectly. So asparagus green was the color for the chairs.
Here is the before....
The weather has been wonderful around here, and it helps get projects done faster. Mixed up my homemade chalk paint and got to painting.
And I had to see the fabric with it....
Almost finished.. I have a few staples to add, and I think wax the chair for protection. But I couldn't wait to show you!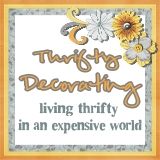 Saturday, March 3, 2012
I received this award from Sarah at
http://www.imperfectpatina.com/
Sarah has a lovely blog, so my small following, please visit her, she does some beautiful work.
Thank you Sarah, I am pleasantly surprised!
This award is aimed at promoting smaller blogs with less than 200 followers, that you feel deserve special recognition.
There are a few simple rules to follow. In order to accept the award, the recipient will:
1. Thank the person who gave you the award.
2. Link back to that person's blog.
3. Copy and paste the award to your blog.
4. Present the award to 3-5 blogs of 200 followers or less that you feel deserve this recognition.
5. Let those blogs know by leaving them a comment.
Here are the blogs that I have chosen:
Thank you for following me!